Leeds Singing Waiters
THE most exciting Singing Waiters experience in Leeds!
Leeds Singing Waiters – The Amazing Singing Waiters have reinvented the surprise singing waiters concept, creating something fresh and exciting for the 21st Century.
Posing as anything from waiters, chefs, guests, police officers or firemen, our  'undercover' performers will burst into song – when your guests least expect it – and really get your party started!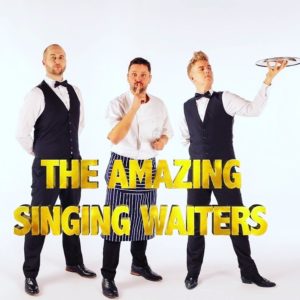 The Amazing Singing Waiters are seasoned professional entertainers, who give spine-tingling renditions of classic and contemporary pop, soul, swing or rock, taking you from The Beatles, Queen and Abba, through to Take That or Bruno Mars.
Whether it's a wedding, corporate event, product launch or function, we work with you to build your bespoke scenario, surprising your guests with unique and memorable entertainment that will have your guests talking about it for weeks and months!
Ready to book? Have Questions? Click here to contact us, or call 0800 171 2017 to speak with us now.
Why SHOULD YOU Book Surprise Singing Waiters?
What is the one main thing that a bride looks for when it comes to her wedding day?
The chance to be memorable, unforgettable, different.
A wedding isn't an every day event, and it differs from couple to couple, but typically they all have the same dull moments – especially that boring wedding breakfast, full of speeches, formality and the inevitable food coma.
Singing Waiters take a dull and formal wedding meal and turn it into a party!

Getting The Party Started… when they least expect it!
Live entertainment at a wedding is now one of the favourite ways to give your guests a great experience on your big day.
With singing waiters you take the professional singers and mix in an element of surprise and fun.
No one expects the guys and girls handing out the champagne and canapés to burst into song, and that's exactly what our Leeds singing waiters do! They shock the guests, amaze them with their talent and spin your formal affair into something unique.
If Everyone Is having Singing Waiters; how WilL Mine Stand Out from the other weddings?
Your wedding day should stand out from every other event that you or your friends have.
Leeds Singing waiters and waitresses can transform the day for you, and guests will fondly recall the moment their servers jumped into their latest song and turned the occasion into a party.
But what if your friends had Singing Waiters? Leeds is just one of the areas we perform in, so we may not have done your friend's wedding (so they might not recognise us), but you can check if in doubt.
Even better – why not choose one of our Police or Firemen options and see your guests' faces as the emergency services enter the room!
Imagine accepting a glass of bubbly only to be met with leading performers – right in front of you? That's the level of shock and awe that you get when you choose The Amazing Singing Waiters for your Leeds wedding.
Ready to book? Have Questions? Click here to contact us, or call 0800 171 2017 to speak with us now.
Why It Works So Well
Guest experience is a concern for every couple. People are going to talk about your wedding for years.
Our singing waiters prepare themselves way in advance, liaising with you about the songs that you want them to sing during the event (taking note of any to avoid, too).
The venue and our singing waiters are in on the secret, creating the ultimate surprise for your guests (and new husband/wife?), blending in with the regular waiters and waitresses.

Suddenly, during a time where there is a lull in the fun and merriment, a waiter will start to sing with the others joining in – or everyone starts together – it's up to you! It's dancefloor theatre, with humour, surprise, fun and memories sealed for life.
Weddings are always better when you add Leeds Singing Waiters audiences always react well to it and get involved.
It's always a surprise when one of your more "sensible" guests joins in with the performance, too!
Why You Need Leeds Singing Waiters
No one would ever look at an elegant wedding venue and expect a professional live performance ahead. No one sees the perfectly laid tables and turned out staff and imagine that there is a musical act waiting to begin.
The photographers can be in on the surprise, too, so that when your waiters burst into performance, they capture the looks of raw surprise on the faces of your guests. Trained dancers and singers are ready and waiting to show the guests – and the newlyweds – that there is so much more to a wedding breakfast than they think!
Book Your Undercover Performance, Now
The Amazing Singing Waiters can pose as anything from waiters to chefs and even guests! Working your event, they'll get your party started and rev up your guests in a way that no one expects. Professional performers, we work with you to build your bespoke scenario and then let these secret superstars do their thing! 
So, whether it's a wedding, corporate event, product launch or function, you can surprise your guests with some truly unique and memorable entertainment!
Ready to book Singing Waiters Leeds? Have Questions? Click here to contact us, or call 0800 171 2017 to speak with us now.